Fireworks, barbecues, and cocktails are the perfect recipe essentials we will all need to make our Fourth of July shine bright.
Just like any other holiday, the fourth is the perfect excuse to get a drink and have some fun outdoors underneath the sun.
Check out our collection of delicious, festive cocktails below and be sure to give one a try this holiday or any occasion that calls for something to sip on.
Italian Ice Champagne Floats
Ingredients
Red Italian Ice (watermelon, cherry, or strawberry flavored)
White Italian Ice (lemon flavored)
Blue Italian Ice (blue raspberry flavored)
Champagne or other sparkling wine (sweeter types such as sec or demi-sec Champagne or sparkling Moscato are recommended)
Directions
Using a small cookie scoop or melon baller, scoop Italian ice into small balls. Place 3 or 4 Italian ice balls in a champagne flute or other 8-ounce glass.
Fill remainder of glass with champagne/sparkling wine or soda.
Serve immediately with a drink stirrer or straw for stirring the float & breaking up the Italian ice.
Recipe Notes:
* Each 6-ounce container of Italian ice yields 7 or 8 scoops, or enough for 2 to 2 ½ floats.
* Different types of sparkling wines, and sweeter types go best with the sweetness of the Italian ice.  Dry Champagnes or Proseccos taste a bit bitter against the Italian ice's sweetness.
– The Kitchen is my Playground
Blueberry Strawberry Mojito
Ingredients
3 tablespoons fresh blueberries, plus additional for garnish
2 fresh strawberries, diced, plus additional for garnish
10-15 fresh mint leaves (a small handful), plus additional for garnish
½ medium lime, juiced (about 1 tablespoon fresh lime juice)
1 teaspoon granulated sugar
1 ½ ounces white rum
Ice
Club soda
Directions
Muddle the blueberries, strawberries, mint, lime juice, and sugar in the bottom of a tall serving glass until the sugar is dissolved and the berries break down. Add the rum and stir to combine.
Fill the glass with ice, then top with club soda. Stir to combine, then garnish with additional mint leaves and berries as desired.
Red, White, and Blue Snow Cones
Ingredients
1 cup sugar
½ cup water
Crushed ice
For Red Syrup
1 cup strawberries, halved
¼ cup white rum
For Blue Syrup
Juice of 1 lime
¼ cup blue curacao
Directions
Combine the sugar and water in a saucepan over medium heat. Bring to a boil, stirring to dissolve the sugar, and then reduce to a simmer, and stirring cook for two minutes.
For red syrup: Pour half of the simple syrup – about ½ cup – over the strawberries. Allow to macerate for 1 hour, then puree in a blender with the white rum. Strain through a fine mesh sieve and reserve.*
For blue syrup: Combine remaining syrup, lime juice, and curacao. Stir to combine completely. Chill syrups until ready to serve.
To make ice: Use a snow cone machine or blend ice in a blender (you may have to do this in batches, keeping each batch in the freezer as you make the next one.
Scoop crushed ice into glasses, then squirt syrups over packed, crushed ice and enjoy!
Recipe Note:
* For a more intense red color, add a drop or two of red food coloring.
Red, White, and Blue Pina Colada
Ingredients
3 Oz. (2 shots) of Rum
3 Oz. (2 shots) of Blue Curacao
6 Oz. Pineapple Juice
5 Oz. Cream of Coconut
1 Cup Fresh or Frozen Strawberries
2 Cup Ice
Directions
Add Rum, Pineapple Juice and Cream of Coconut and Ice to a blender.
Blend until Smooth.
Pour around ⅔ of the mixture into a separate container; leaving the rest in the blender.
Add Strawberries to remaining mixture in blender; blend until smooth.
Pour Strawberry mixture into drinking glasses, slowly pour ⅓ of the reserved Pina Colada mixture into the drinking glasses.
Add the remaining reserved mixture and Blue Curacao into the blender; blend until combined.
Slowly pour the blue mixture into the drinking glasses.
Blueberry Coconut Sparkler
Ingredients
3 cups fresh blueberries
3 Tbsp. lemon juice
½ cup coconut rum
2 ½ cups ginger ale
Ice
Coconut Flakes (optional garnish)
Directions
Muddle the blueberries in the bottom of a medium bowl.
Add the lemon juice and coconut rum; stir until well combined. Using a fine mesh strainer, strain the mixture and discard the blueberry skins.
Add the ginger ale and gently stir until combined.
Garnish rims of glasses with coconut flakes (optional).
Fill glasses with ice and add Blueberry Coconut Sparkler.
– Spiced
Honorable Mention: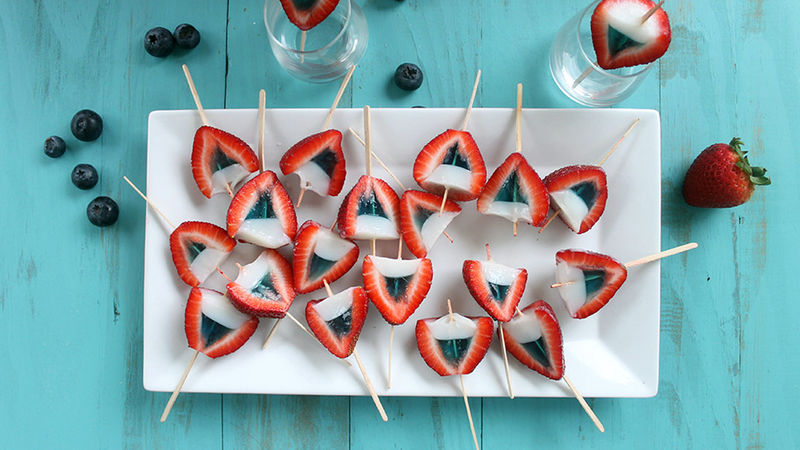 Red White and Blue Strawberry Jello Shots
Ingredients
50 extra-large strawberries (about 2 large cartons) SAVE $
1 package (3 oz.) Jell-O™ blue berry
1 cup water
2 envelopes (1.4 oz.) unflavored powdered gelatin (about 2.5 teaspoons)
½ cup milk or cream or coconut milk SAVE $
½ cup white sugar
1 cup flavored (or plain) vodka, divided
Directions
Slice off the bottoms of the strawberries to allow them to stand upright. When you do so, make sure not to cut off so much that there is a hole—the slightest hole will make the gelatin leak out of the berries. Use a paring knife or small spoon to hollow out the strawberries as much as possible.
Place 1 cup water in a medium saucepan. Add the blue gelatin and mix to combine the gelatin. Sprinkle 1 envelope of unflavored powdered gelatin on top, let sit for 60 seconds. Mix to combine and then turn on heat to medium-high. Bring to a simmer and then remove from heat.
Pour half of the berry blue gelatin (½ cup) into a ½ cup of the vodka. Set aside.
Place ½ cup milk, cream or coconut milk into a medium saucepan. Sprinkle 1 envelope of unflavored gelatin on top and let sit for 60 seconds. Mix to combine and then turn on medium-high heat. Add ½ cup of sugar. Bring to a simmer and make sure that the sugar is dissolved. Remove from heat.
Pour the white gelatin mixture into the remaining ½ cup of the vodka. Set aside at room temperature. Do not place somewhere cold, stir it every 10 minutes or so while you are on the next step.
Using a spoon, carefully pour the blue gelatin into the strawberries. Fill only halfway. Refrigerate for about 45-60 minutes or until the gelatin is semi-set (firm but still sticky).
Fill the rest of the hollowed strawberry with the white gelatin mixture. Refrigerate for at 3-4 hours.
When fully set, slowly slice each strawberry in half from the top down. Place them on mini sticks or skewers. Keep refrigerated until serving.
(Visited 46 times, 1 visits today)