Entrepreneurship is a thing of the now and a thing of the future. The lack of diversity in the tech world is an issue which black men and women are making strides in changing.
Often, we encounter waves of black girl magic disrupting the scenes in tech industries and beyond. But alongside black queens are kings co-founding, launching, and starting new companies that are making significant differences in various communities.
These 7 black men have been making great strides in the tech industry to address the lack of inclusion across the world. Get familiar below and tap into your inner CEO through their work.
Tristan Walker
Tristan Walker is the founder and CEO of Walker & Co. Walker & Co. is a company that is dedicated to creating hair and beauty products for people of color such as the Bevel Blade and Trimmer – you've heard Nas drop a line on e the popular shaving system. Walker is someone who believes in an inclusive country that fosters opportunity, creativity and a level playing field. Who wouldn't want to follow someone who displays positivity?
Follow here.
Chris Bennett
Chris Bennett is the founder and CEO of Soldsie. Soldsie is the world's first social shopping service. It allows merchants to collect payments from customers through the comment section of Facebook and Instagram. Bennett is also the founder of Black Founders whose primary goal is to increase the number of successful black entrepreneurs in the tech industry.
Follow here.
Rodney Williams
Rodney Williams is the co-founder and CEO of LISNR. LISNR is an ultrasonic audio technology that uses inaudible sound to transmit information which means it can't be heard by the human ear. Williams has raised over $10 million from investors such as Progress Ventures and Intel Capital.
Follow here.
Dave Scott
Dave Scott is the CEO and co-founder of Laugh.ly. Laugh.ly is a platform for comedians who are both underground and established to get their content out. Scott is also a writer who is an expert in customer acquisition and lead generation strategies.
Follow here.
Larry Baker
Larry Baker is the co-founder of Bolstr, which is the marketplace for small business lending. They put their borrowers first and are working hard to reinvent the lending model to make access to capital available, affordable, and fair for all business owners. This startup is so important because it solves the problem for small business owners in our communities who struggle in accessing valuable capital.
Follow here.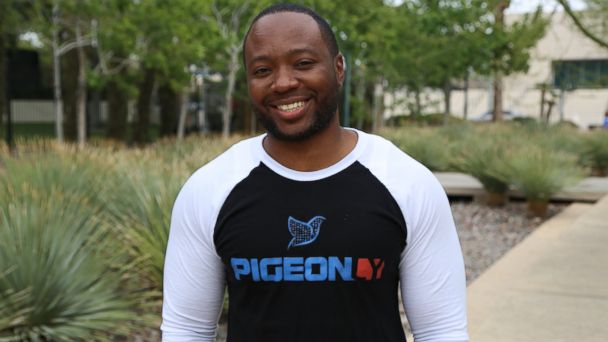 Frederick Hutson
Frederick Hutson is the founder of Pigeonly, a platform that makes it easier for people to search, find and communicate with an incarcerated loved one. It cuts the cost of expensive prison calls by 80% and allows people to send their loved one photos, greeting cards, and more right from a cell phone, tablet or computer. Hutson has raised over $4 million in funding for his startup and is serving our communities.
Follow here.
Edwin Broni-Mensah
Edwin Broni-Mensah is the founder of Give Me Tap. Give Me Tap's goal is simple, for every reusable bottle of water that is purchased, communities across Africa will receive clean, safe drinking water through the installment of water pumps. Giving a community access to clean water can just about change everything for people.
Follow here.
(Visited 50 times, 1 visits today)